SAY IT WITH FLOWERS ... SPOIL HER WITH THE RUSH BOTANICAL COLLECTION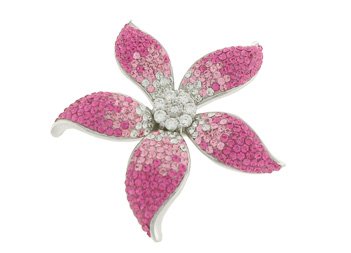 There's no sweeter gift than flowers. But what if you're looking for something extra-special ... something that gives longer-lasting sparkle?

The RUSH Botanical Collection is inspired by a rich variety of colourful blooms, creatively reinterpreted in glittering crystal. Like your corner florist, RUSH has all your favourite flowers covered. You can choose from the luxurious, long petals of the Lily pendant or a more petite posey of the Forget-Me-Not pendant and ring. Used in some cultures as an offering to a goddess, the Hibiscus pendant and ring displays generous crystal blooms, and for maximum sparkle, the Rose ring will literally bedazzle you! Not to be outdone, the shimmering Magnolia ring will have the in-crowd whispering in envied tones. What garden would be complete without a crystal kaleidoscope of butterflies - a pendant for something more sophisticated, or a ring befitting young love or friendship - and a glittering Dragonfly symbolising courage, strength and happiness. And lucky last, the Botanical Lucky Clover for faith, hope and love - no need to cross your fingers with this lucky charm.
Just as bees are drawn to the pollen, the RUSH Botanical Collection will have your admiring friend's a-buzzing!

Visit the RUSH Botanical Collection here.